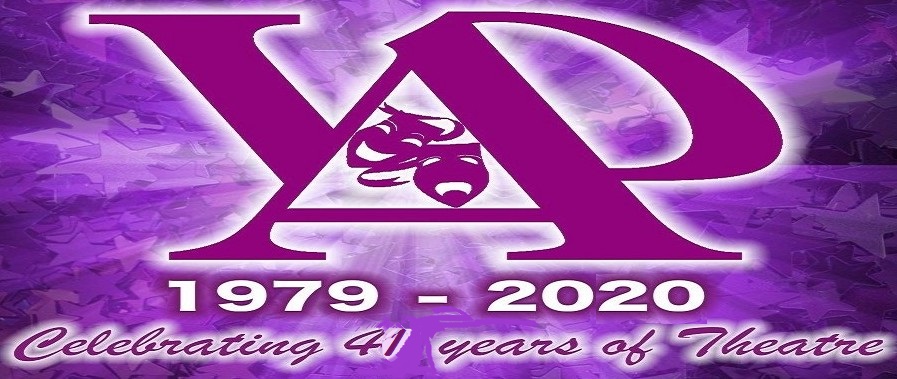 Yaxley Amateur Players

Performed early February 2006
Performed over two weekends, Cinderella was pure magic and many commentators have stated that this was one of the best ever, not least of all because of the effort put in by producer David Griffin and the cast. Of course Eric and Christine Akrill were their usual excellent selves and a welcome return to the stage by some of the original members ensured that the pantomime was a resounding success.
---
PETER PAN
on the 14th & 15th October 2005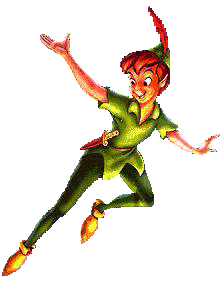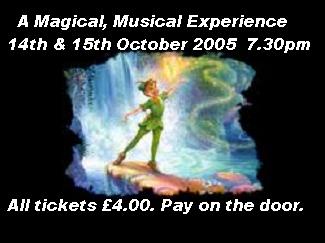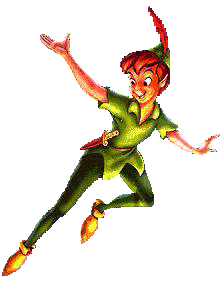 ---
Yaxley Amateur Players
MUSICAL

MAYHEM
Performed on 26th & 27th August 2005
A lively evening of nostalgic music and sketches was performed by YAP and YAPY members before two packed houses. Revelers enjoyed a superb evening of entertainment with songs from Broadway Musicals , Cabaret , Old Time Music Hall , James Bond & War Songs whilst enjoying wine and refreshments which were included in the entrance fee. Eric Akrill's portrayal of Private Godfrey from "Dad's Army" was uncannily realistic. Congratulations should be given to the rest of the cast who performed superbly. A very enjoyable evening was had by all.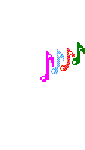 ---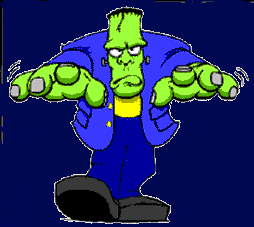 The 2005 YAP pantomime was 'Frankenstein the Panto' by David Swan. A traditional panto in all but name; Little Orphan Heidi, mistreated by her greedy employers Frau and Herr Pumpernickel, finds happiness with handsome Prince Ludwig. Together, with stooges Frankie, Professor Crackpot, and of course, faithful dog Kodak, they set out to combat the evil (and hopeless) Count Dracula and his wicked and nasty, Grandmother, Granula.
This was the second time YAP has performed Frankenstein and whilst there may be some similarities, audiences noticed that it was new and different; up to the minute direction and choreography; lighting and sound resources we never dreamed of a few years ago, courtesy of the National Lottery; new and enthusiastic young actors and actresses, some of whom cut their teeth in the junior group and have moved on to support the adults; costumes and set which demonstrate past experience as well as new talent.
Something which hasn't changed is the thriving youth group, with 28 children and young people aged from 6 to 16 involved. They have recently had success with their performance of The Factory Children and are all keen to tread the boards again as soon as possible.
---
GOSFORTH'S FETE
Performed on Saturday 11th September 2004 & included a brainteasing quiz, raffle, a free glass of wine, refreshments, including home-made cakes, jam etc. Raffle prizes included front row seats for this year's panto - 'Frankenstein, The Panto' - a repeat, by popular request. There was also a Family Ticket Prize (worth £20 .00) redeemable at Antonio's Pizza House in Yaxley.
This was a hilarious entertaining evening for all the family
Sorry if you missed it!
---
Yaxley Amateur Players 25 Years Re-union
The re-union took place on Saturday 26 June 2004 in Yaxley Public Hall. There was a good turnout ranging from founder members to the most recent additions. We probably over-estimated the food requirements and some of us are still eating vegetarian Chilli Con Carne at breakfast, lunchtime and dinnertime. There was much reminiscing on the night - videos were shown of past productions and lots of photo albums were brought out of the attics.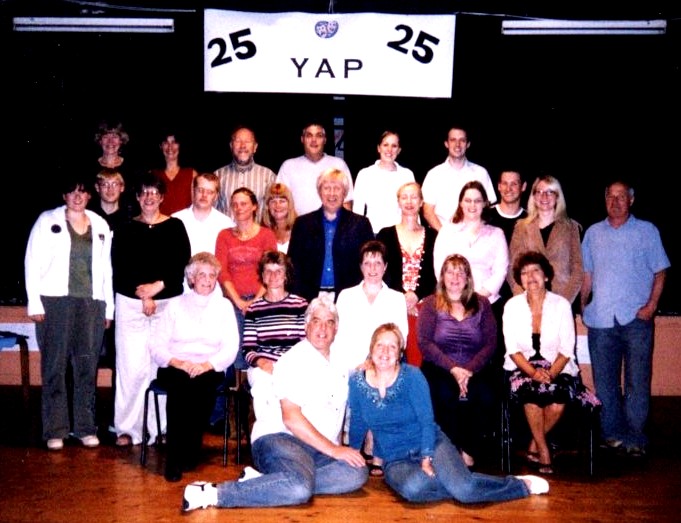 Group photo of re-union attendees. In the foreground are Eric and Chris Akrill (founder members).
Second Row - Lorraine Nock, Caroline Worth, Liz Perry (nee Humphries), Diane Pickett (nee Kylnyk), Shirley Vessey.
In the third row are Jody Williamson, Stuart Griffin, Joy Harris, Richard Nock, Caroline and Joyce Garner, David Worth, Julie Harrhy, Debbie Barker, David Griffin, Louise Fowler and the chap who came with Shirley (whoever he may be).
At the back are Alison Siddons, Jackie Stone, Graham Garner, Roland Pickett, Dominique Akrill. and Steve Armstrong.